"These gummies have been my happy snack when I'm stuck in office for long hours. They taste really good, and I've noticed they usually put me in a better mood too."
Noah Brown - Deerforia Customer
★★★★★
An Enjoyable Way To Elevate Your Mood, Whilst Boosting Your Immunity!
Ignite your daily health routine with our Sunshine Spectrum Vitamin D3 Gummies (1000IU)! With a potent dosage of Vitamin D3, these flavorful gummies are designed to bring you the benefits of the sun's radiant energy in an enjoyable and convenient form.
1. Dose of Sunshine: Each gummy is packed with 1000IU of Vitamin D3, the "sunshine vitamin," providing a strong foundation for your overall health, come rain or shine.
2. Bone and Teeth Health: Support your skeletal strength naturally. Our gummies facilitate your body's calcium absorption, promoting healthier bones and teeth.
3. Immunity Elevator: Ward off health intruders with the power of D3. Our gummies contribute to a healthy immune system, helping you maintain your wellness fortress.
4. Mood Enhancer: Why let gray days dampen your spirits? Vitamin D3 is known to uplift mood, adding a burst of sunshine to every moment.
5. Deliciously Simple: No more struggling with hard-to-swallow pills. Experience a burst of fruity delight, making your daily vitamin intake a joyful ritual, not a mundane task.
Illuminate your path to better health with our Sunshine Spectrum Vitamin D3 Gummies (1000IU). Order today and let the sun's radiance seep into your body and spirit!
Supplement Facts

Serving Size 1 Gummies

Servings Per Container 60

 

Amount Per Serving

%Daily Value

Calories

10

 

Total Carbohydrate

2 g

<2%**

Total Sugars

2 g

†

Includes 2g Added Sugars

 

4%**

Vitamin D (as cholecalciferol)

25 mcg (1000 IU)

125%

Other Ingredients: Glucose syrup, sugar, water, pectin, citric acid, black carrot concentrate, trisodium citrate, natural strawberry and mixed berry flavors, chlorophyll, natural peach flavor, paprika extract, carnauba wax.

Definitions

† Daily Value not established.

** Percent Daily Values are based on a 2,000 calorie diet.
Consumption Instructions

SUGGESTED USE: Take 1 Gummy per day. Take only as directed. Do not exceed suggested dosage.

WARNING: Intended for use by adults 18 years of age and over.

If you are pregnant, nursing, taking any medications or have any medical condition, consult your doctor before use.

STORAGE: Store in a cool, dry place away from heat and moisture.
Shipping & Returns

We SHIP to:

North America

European Union 

| | | |
| --- | --- | --- |
| United Kingdom | Germany | Sweden |
| Netherlands | Ireland | France |
| Finland | Portugal | Denmark |
| Italy | Belgium | Poland |
| Romania | Czech Republic | |

Rest of World

| | | |
| --- | --- | --- |
| Australia |  New Zealand  | Singapore |
| China | Japan | Taiwan |
| Malaysia | Qatar | Philippines |
| Brazil | Indonesia | Turkey |
| Saudi Arabia | Pakistan | Israel |
| Colombia | Morocco | Hong Kong |
| | | |
View full details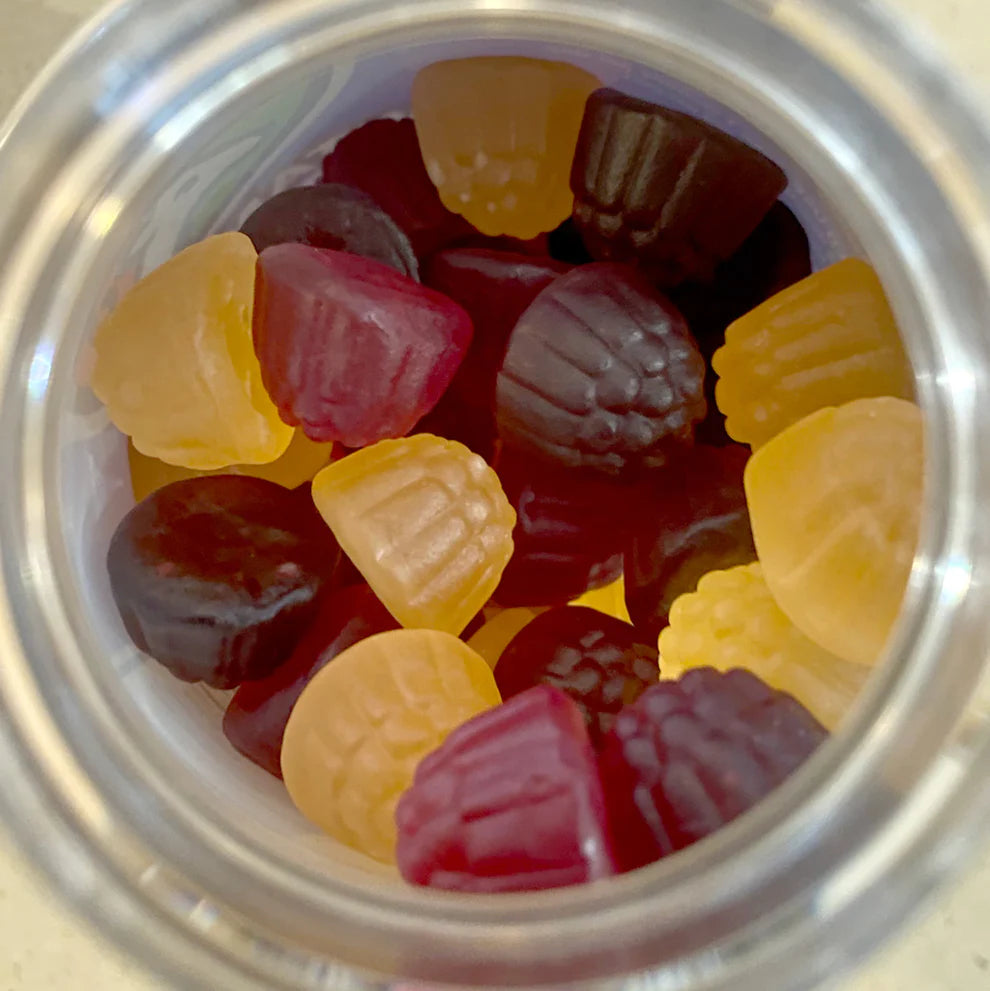 Tastes Amazing

⭐⭐⭐⭐⭐
"These have a unique texture that I love. It's legitimately delicious lol. I would eat it like candy; it's that good! Only downside is I cant have more every day!"

~Marisa

Best Way To Get D3

⭐⭐⭐⭐⭐
"I dont like taking my Vitamin D pills. With these gummies, getting Vitamin D is now much more a treat! It tastes so good you would think your eating candy. I love them."
~Molly

I Enjoy These Alot

⭐⭐⭐⭐⭐
"Arrived timely and well packaged. Gummies are soft and taste pretty good. Been actually looking forward to taking these every day!"

~Ange

Perfect For Me

⭐⭐⭐⭐⭐
"I dont get much sun since I work in the office every day. These Vitamin D gummies are perfect, its got a good amount of D3 (if you take 2 gummies) and tastes really good!"

~Colin
Sunshine Mood in a Bottle
Introducing our delicious Vitamin D3 1000IU Gummies, designed to support your body and provide essential nutrients to maintain overall health. These gummies are the perfect blend of taste and function, bringing sunshine to your daily routine.
Boost Your Immunity and Mood
Our Vitamin D3 1000IU Gummies are packed with essential nutrients to strengthen your immune system and elevate your mood. The power of Vitamin D3 lies in its ability to:
Support immune health
Improve bone strength
Enhance mood and mental well-being
Don't let the lack of sunshine deprive you of this essential nutrient. Our gummies provide a convenient and enjoyable way to get your daily dose of Vitamin D3.
Tasty and Easy to Love
Who said taking vitamins has to be boring? Our mouth-watering gummies come in a variety of fruity flavors, making it a delight to take your daily dose. The benefits of our Vitamin D3 1000IU Gummies don't stop at their taste, they also offer:
Gelatin-free, making them suitable for vegetarians
Free from artificial colors and flavors
Non-GMO ingredients
Choose a supplement that's as enjoyable as it is beneficial. Treat yourself to our Vitamin D3 1000IU Gummies and feel the difference today!
Frequently Asked Questions
Are vitamin D3 gummies effective?

Yes, vitamin D3 gummies can be an effective way to boost your vitamin D levels. However, it's important to choose high-quality products that contain the recommended daily dose of vitamin D3 and talk to your doctor before adding them to your routine.
What is the difference between vitamin D and D3?

Vitamin D is a group of fat-soluble vitamins, including vitamin D2 and D3. Vitamin D3 is the form of vitamin D that's synthesized by the body when the skin is exposed to sunlight, while vitamin D2 is found in some foods and supplements. Vitamin D3 is considered to be more effective at raising blood levels of vitamin D.
What does D3 gummies do?

D3 gummies can help support bone health, immune function, and even mood regulation. Vitamin D3 is essential for the body to absorb calcium and maintain strong bones, and it's also important for immune system function and overall health.
What are the signs you need vitamin D?

Some signs that you may be deficient in vitamin D include fatigue, muscle weakness, bone pain, and a weakened immune system. However, the only way to know for sure if you're deficient in vitamin D is to have your blood levels tested by a healthcare professional.
Is it OK to take vitamin D3 everyday?

In general, it's safe to take vitamin D3 supplements every day, as long as you're taking the recommended dose. However, it's important to talk to your doctor before starting any supplement regimen, especially if you have any underlying health conditions or are taking other medications.
How much vitamin D3 should you take daily?

The recommended daily dose of vitamin D3 varies depending on age, sex, and other factors. In general, adults need around 600-800 IU per day, while older adults and those with certain medical conditions may need more. It's important to talk to your doctor to determine the right dose for you.
How soon will I feel better after taking vitamin D3?

The effects of vitamin D3 can vary depending on the individual and the dose. Some people may notice improvements in their mood or energy levels within a few days of consistent use, while others may take longer to see results. It's important to give vitamin D3 time to work and to talk to your doctor if you have any concerns.
What are the side effects of vitamin D gummies?

While vitamin D gummies are generally considered safe, taking too much can cause side effects such as nausea, vomiting, and constipation. It's important to follow the recommended dosage guidelines and talk to your doctor if you experience any negative symptoms.
Free Shipping Over $30

We're offering free shipping on all orders over $30, so you can stock up on more your favorite gummies without, and save money on the shipping side!

100% Satisfaction Guarantee

We're confident that you'll love our gummies. If for any reason you're not completely satisfied with your order, simply let us know within 30 days of purchase and we'll provide a full refund.

Secured Checkouts

Shop with peace of mind knowing that our checkout process is fully secure. We take the protection of your personal information seriously and use industry-standard encryption to safeguard your data.
Sunshine Vitamin D3 Gummies - 1000IU
An Enjoyable Way To Elevate Your Mood, Whilst Boosting Your Immunity!
Regular price
Sale price
$19.95 USD
Unit price
per
Sale
Sold out
Share
View full details