"My hair feels thicker, my nails are stronger, and my skin has a lovely glow. I'm heaps happy with the results."
Ava Hughes - Deerforia Customer
★★★★★
Enhance Your Natural Radiance and Unlock Your Beauty's Full Potential!
Regular price
Sale price
$19.95 USD
Unit price
per
Sale
Sold out
Are you ready to glow from the inside out? Meet our Radiance Hair, Skin, and Nails Gummies – your secret weapon for a beautiful you. These delicious gummies pack a potent beauty punch, making them a must-have for your daily routine.
1. Luscious Locks: Want hair that turns heads? Our Radiance gummies are just what you need. They're designed to give your hair the nourishment it needs, helping it grow longer, thicker, and shinier. Say goodbye to bad hair days!
2. Skin that Glows: If you dream of having skin that radiates health, our gummies are your dream come true. They work to nourish your skin from within, helping it stay soft, smooth, and glowing. It's like having a spa day, every day!
3. Nails that Impress: No more hiding your hands! Our Radiance gummies help your nails grow stronger and healthier, making them less prone to breakage. It's time to show off your beautiful nails!
4. Easy and Delicious: Forget complicated beauty routines. With our Radiance gummies, boosting your beauty is as easy as enjoying a delicious treat. They're the perfect addition to your daily regimen.
5. All-Natural Goodness: Our gummies are packed with vitamins and minerals that your body loves. They're a natural way to enhance your beauty, making you look and feel your best.
Embrace your beauty with Radiance Hair, Skin, and Nails Gummies. Because you deserve to shine. Order now, and let your beauty journey begin!
Supplement Facts

Serving Size 2 Gummies

Servings Per Container 30

 

Amount Per Serving

%Daily Value

Calories

20

 

Total Carbohydrate

4 g

1%**

Total Sugars

4 g

†

Includes 4g Added Sugars

 

8%**

Sodium

10 mg

< 1%

Vitamin A (as Palmitate)

1,200 mcg RAE

133%

Vitamin C (as Ascorbic Acid)

60mg

67%

Vitamin D (as Cholecalciferol)(400 IU)

10 mcg

50%

Vitamin E (as dl-Alpha-tocopherol Acetate)

18mg

120%

Vitamin B6 (as Pyridoxine HCl)

2mg

118%

Folate (as 400 mcg Folic Acid)

666 mcg DFE

167%

Vitamin B12 (as Cyanocobalamin)

8 mcg

333%

Biotin

5,000 mcg

16667%

Pantothenic Acid (as d-calcium pantothenate)

10 mg

200%

Iodine (as Potassium Iodide)

80 mcg

53%

Zinc (as Zinc Citrate)

5 mg

45%

Marine Collagen

20 mg

†

Other Ingredients: Glucose syrup, sugar, water, citrus pectin, black carrot concentrate, citric acid, trisodium citrate, natural mixed berry flavor

Definitions

† Daily Value not established.

** Percent Daily Values are based on a 2,000 calorie diet.
Consumption Instructions

SUGGESTED USE: Take 2 Gummies per day. Take only as directed. Do not exceed suggested dosage.

WARNING: Intended for use by adults 18 years of age and over.

If you are pregnant, nursing, taking any medications or have any medical condition, consult your doctor before use.

STORAGE: Store in a cool, dry place away from heat and moisture.
Shipping & Returns

We SHIP to:

North America

European Union 

| | | |
| --- | --- | --- |
| United Kingdom | Germany | Sweden |
| Netherlands | Ireland | France |
| Finland | Portugal | Denmark |
| Italy | Belgium | Poland |
| Romania | Czech Republic | |

Rest of World

| | | |
| --- | --- | --- |
| Australia |  New Zealand  | Singapore |
| China | Japan | Taiwan |
| Malaysia | Qatar | Philippines |
| Brazil | Indonesia | Turkey |
| Saudi Arabia | Pakistan | Israel |
| Colombia | Morocco | Hong Kong |
| | | |
View full details
Nourish Your Natural Beauty
Unveil the secret to radiant hair, skin, and nails with our Hair, Skin, and Nails Gummies.
Packed with essential vitamins and minerals, these delectable gummies provide your body with the nutrients it needs to support your inner and outer beauty.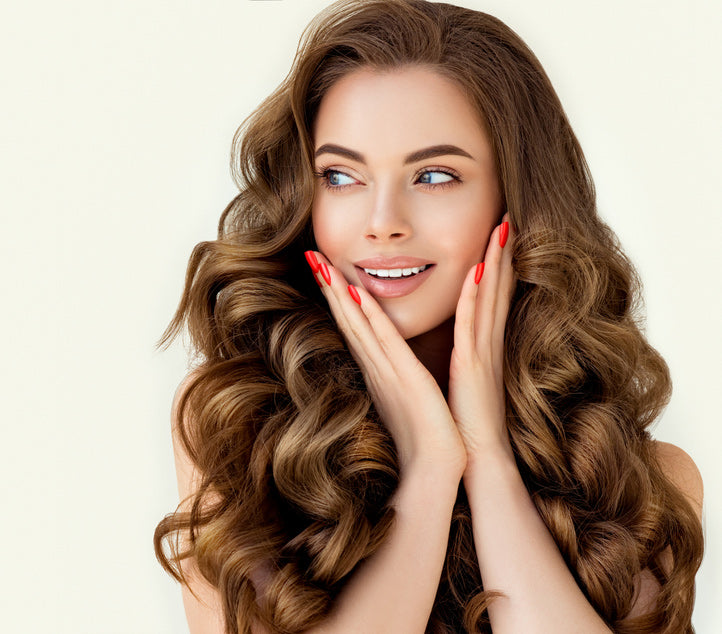 The Power of Collagen for Youthful Skin
Do you wish you could turn back the clock on your skin?
They are infused with collagen, a protein that is vital for maintaining youthful, radiant skin. Collagen helps to reduce the appearance of fine lines and wrinkles, while also improving skin elasticity and hydration.
Say hello to a more youthful, glowing complexion with our Hair, Skin, and Nails Gummies!
Vitamin E for Strong Nails
Do you struggle with weak, brittle nails that are prone to breaking?
These Gummies contain vitamin E, a powerful antioxidant that is essential for strong, healthy nails.
Vitamin E helps to strengthen your nails from the inside out, promoting healthy nail growth and reducing the risk of breakage.
Say goodbye to weak, brittle nails and hello to strong, beautiful nails with our Hair, Skin, and Nails Gummies!
Frequently Asked Questions
Do hair skin and nail gummies actually work?

Hair, skin, and nail gummies containing vitamins, minerals, and other nutrients may provide some benefits for hair growth, skin health, and nail strength. However, their effectiveness depends on individual factors, such as genetics, diet, and overall health. While these gummies may help address specific nutrient deficiencies, they may not have a significant impact for everyone.
What is Biotin?

Biotin, also known as vitamin B7 or vitamin H, is a water-soluble B vitamin that plays a crucial role in various metabolic processes, including the synthesis of proteins, carbohydrates, and fats. It is essential for maintaining healthy hair, skin, and nails, as well as supporting the nervous system and liver function.
Does biotin thicken hair?

Biotin may help improve hair health, including thickness, by promoting keratin production, a protein that makes up hair structure. While biotin deficiency can lead to hair thinning, supplementation may improve hair health in those who are deficient. However, its effectiveness in individuals with normal biotin levels is less clear.
How long does it take to see a difference with hair skin and nails vitamins?

It may take several weeks to a few months to notice a difference in hair, skin, and nails after starting a vitamin supplement. This is because hair, skin, and nails grow and regenerate at different rates, and it takes time for the nutrients to exert their effects.
How often should I take hair skin and nails gummies?

The recommended frequency for taking hair, skin, and nails gummies varies depending on the product and dosage. Always follow the manufacturer's instructions on the label or consult a healthcare professional for guidance.
What are the side effects of hair skin and nails vitamins?

Potential side effects of hair, skin, and nails vitamins can include allergic reactions, digestive upset, skin rashes, or interactions with medications. Some ingredients, such as biotin, may interfere with lab test results if taken in excessive amounts.
Does biotin cause weight gain?

There is no conclusive evidence to suggest that biotin supplementation leads to weight gain. Biotin plays a role in metabolizing nutrients, but it is not directly associated with weight gain or loss.
Are hair skin and nails vitamins FDA approved?

Dietary supplements, including hair, skin, and nails vitamins, are regulated by the FDA but not approved in the same way as prescription medications. The FDA monitors the safety and labeling of supplements but does not evaluate their effectiveness.
Can hair skin and nail gummies cause hair loss?

Hair, skin, and nail gummies are generally formulated to support hair growth and health. However, if an individual has an allergy or sensitivity to any of the ingredients, they may experience adverse effects, including hair loss. Discontinuing the use of the product and consulting a healthcare professional is recommended if side effects occur.
Who should not take biotin?

Individuals with allergies or sensitivities to biotin should avoid supplementation. Additionally, those taking certain medications, such as anticonvulsants or antibiotics, may need to consult a healthcare professional before taking biotin, as it can interact with these medications.
What are the disadvantages of hair gummies?

Potential disadvantages of hair gummies include the risk of allergic reactions, digestive upset, or interactions with medications. Moreover, not everyone may experience significant benefits from these supplements, as individual results may vary.
What are symptoms of too much biotin?

Biotin toxicity is rare due to its water-soluble nature; excess biotin is typically excreted in the urine. However, taking excessive amounts of biotin can interfere with certain laboratory tests, leading to inaccurate results. Some potential symptoms of excessive biotin intake may include skin rashes, digestive upset, or interactions with medications. If you suspect you have consumed too much biotin or are experiencing adverse effects, consult a healthcare professional for guidance.
Free Shipping Over $30

We're offering free shipping on all orders over $30, so you can stock up on more your favorite gummies without, and save money on the shipping side!

100% Satisfaction Guarantee

We're confident that you'll love our gummies. If for any reason you're not completely satisfied with your order, simply let us know within 30 days of purchase and we'll provide a full refund.

Secured Checkouts

Shop with peace of mind knowing that our checkout process is fully secure. We take the protection of your personal information seriously and use industry-standard encryption to safeguard your data.
Radiant Hair, Skin and Nails Gummies
Enhance Your Natural Radiance and Unlock Your Beauty's Full Potential!
Regular price
Sale price
$19.95 USD
Unit price
per
Sale
Sold out
Share
View full details